Remember Me as Loving You is a wonderful new memoir by Kimberly Childs. Here's my review on Goodreads: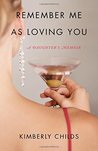 Remember Me as Loving You: A Daughter's Memoir by Kimberly Childs
My rating: 4 of 5 stars
If you're looking for an uncommon memoir about some pretty universal themes, you'll want to read this book. Childs takes on parental neglect, alcoholism, the need for young people to find themselves, the pull of spirituality and the push of unsatisfying intimate relationships by telling a story that spans the eastern Kentucky's impoverished Appalachian hills, London's wealth and glitz, San Francisco's hippie grittiness, and a religious commune extending its tendrils along the commuter corridor between Connecticut and New York.
Childs begins with stories from her early childhood, from living unaware of her poverty with her Appalachian grandparents to being left by her glamorous but alcoholic mother in fancy London department stores, taxi cabs, and even an English boarding school. When she can't cope with her unavailable mother any more, she turns to her father and stepmother, a situation that devolves into financial strain, jealousy, and competition. Later she searches for love, community, and meaning in San Francisco and in a religious commune in New York. She falls in love with what her New York guru represents and finds that, just as with her mother, her reverence and love tends to be unreturned. Much is demanded and little is given.
As an older adult, Childs finds peace in meditation, completes a graduate degree in social work, and discovers happiness in an intimate, loving relationship that seems truly mutual, but even that story takes unexpected twists and turns.
This is a book that draws forth a range of emotions from anger and rage to joy and love. It's moving, complicated, and fascinating. If you're anything like me, you'll open it intending to read just a chapter or two and before you know it you'll be halfway through, wondering where the time went.